POLITICON.COM
Georgia-Azerbaijan football scandal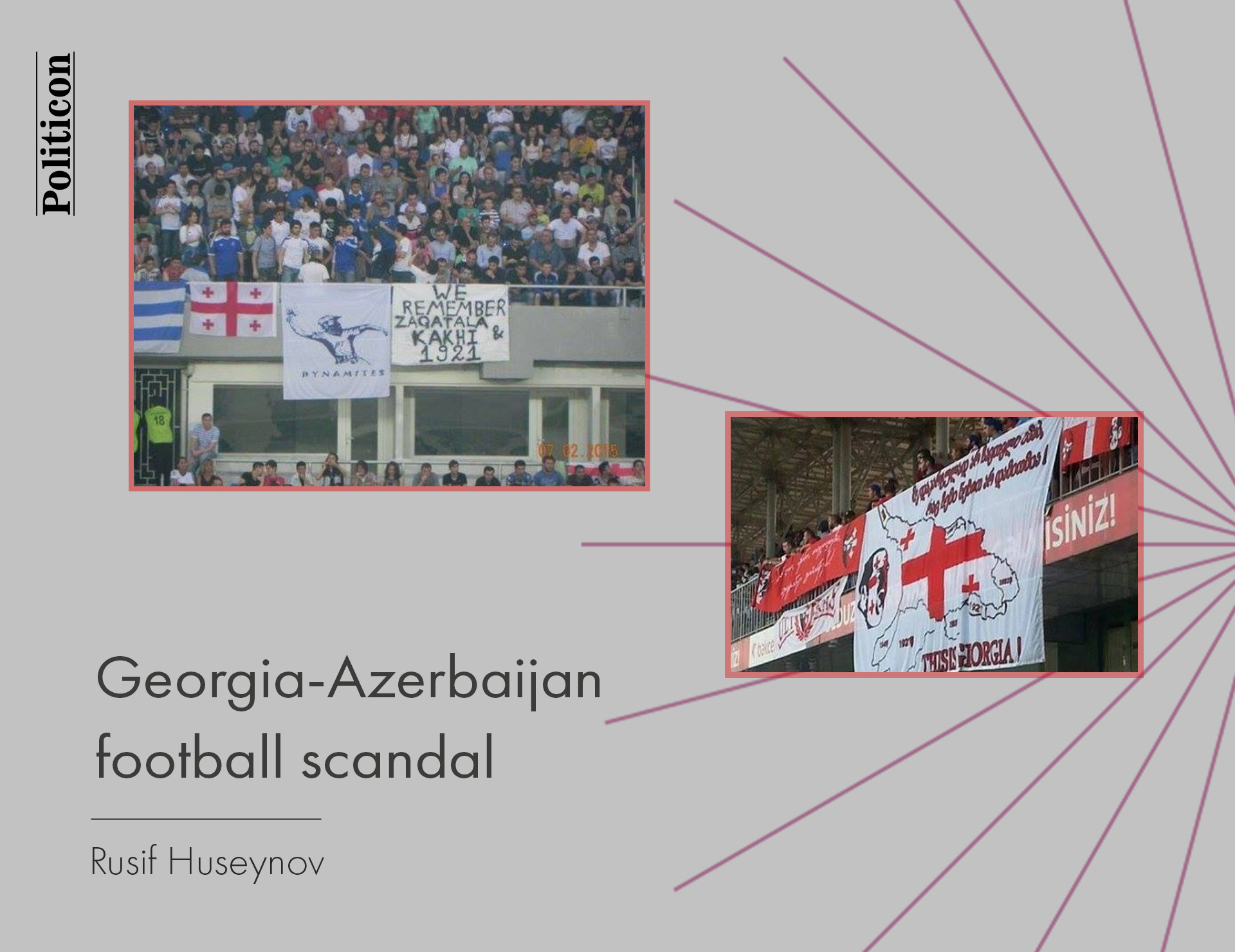 The Georgia-Azerbaijan relations underwent a serious test because of the scandal during the first leg of a UEFA Europa League qualifier between Dinamo versus Gabala in Tbilisi on July 2. The series of provocative actions launched even prior to the match was accompanied by violations.
The first event occurred when several Azerbaijani supporters, who had come to Georgia`s capital got beaten by local fans. The aftermath of the match also saw another incident – Georgian fans attacked visiting supporters, beating several people and insulting Azerbaijani flag. The relevant photos that show humiliated Azerbaijani symbols went viral straight away and caused a big outrage in both nations.[1]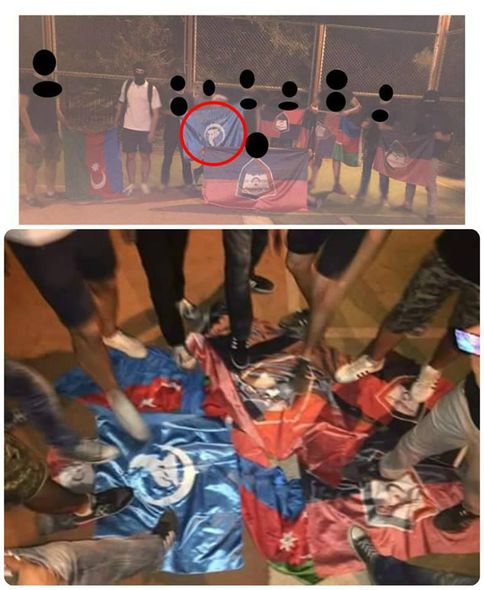 Those incidents, although quite unpleasant, could still be attributed to football hooliganism that takes place in many countries. However, the worst and politically motivated part of those provocations did occur during the match, when a Georgia fan group hung out a poster that said "We remember Zagatala and Kakhi. 1921" by claiming two historical provinces of Azerbaijan.[2] The poster was taken away after efforts by UEFA officials.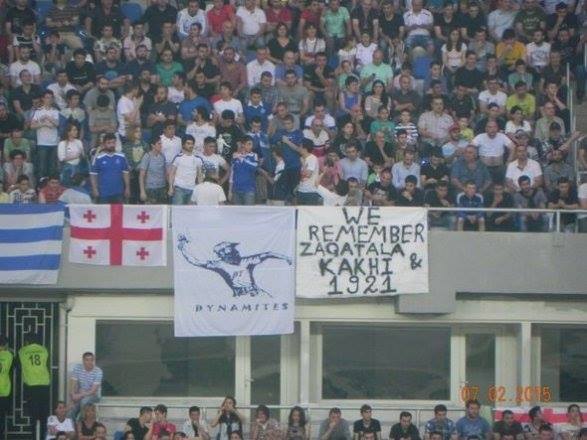 Interestingly, it was not the first provocation of this type: a similar incident did happen during another Europa League match held in Baku previous year. The visiting fans got on nerves of hosting Azerbaijanis with their map of greater Georgia claiming several districts of Azerbaijan.[3]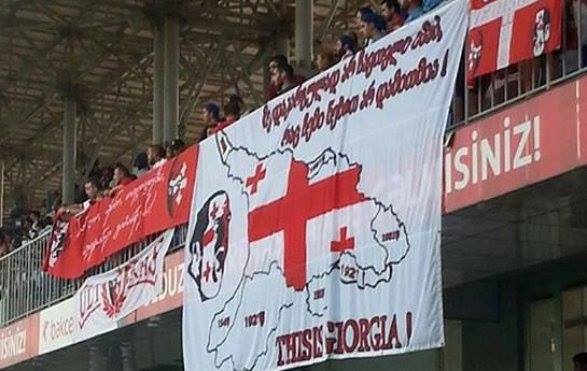 Right after this year`s episode, Dinamo Tbilisi management released a statement by condemning the incident and distancing itself from football hooligans.[4]
The immediate reaction to the incident came from top officials as well. "Strategic relationship with the Azerbaijani government and people is very important for Georgia. As the head of the Georgian government, I resolutely state that nobody, with such provocative actions, will be allowed to cast a shadow upon relations with Azerbaijan," Prime Minister Irakli Garibashvili said.[5] He also called on the country's Interior Ministry to launch an investigation into the alleged incident.[6]
However, covering the incident several Georgian online sources referred to Zagatala and Kakh as "historical province Saingilo, which is populated partly by Georgians" and "historical Georgian territory improperly attributed to the Azerbaijan Soviet Socialist Republic in early 1920s by the Bolsheviks."[7]
The territorial claims voiced in Tbilisi caused mixed reactions in Azerbaijan: the majority were shocked and disappointed. Others asserted that Azerbaijan should not rely on Georgia too much and be more careful from now on.
There were attempts to find Russian and even Armenian trace in the actions. Some put forward the idea that the incident could have been organized by ethnic Armenians residing in Georgia in order to worsen Azerbaijan-Georgia relations, while another group thinks the Kremlin, which is uninterested in Georgia`s speedy integration with the West and tries to regain control over both Georgia and Azerbaijan could stand behind the afore-mentioned event.[8]
Georgians, who themselves suffered from separatist movements in the 1990s, now have problems with two breakaway regions: Abkhazia and South Ossetia were already recognized by a few nations. Reclaiming sovereignty over those territories, which are under the direct protection of Russia, seems less and less possible. The experience of the 2008 Five-day War demonstrated that Russia would not let Georgia restore the integrity of its internationally recognized territory. Therefore, Georgian territorial claims toward a friendly nation sound shocking and unexpected.
In Zakatala and Gakh, which were subject to territorial claims, Georgians form a minority. According to different statistical data, nearly 10,000 – 15,000 ethnic Georgians live in Azerbaijan[9] [10], mainly in Gakh and makeup only 0.16% of Azerbaijan`s population of 9 million.
The Azerbaijanis, however, have not put forward any claims towards Georgia, despite large Azerbaijani-populated lands in Georgia. The number of Azerbaijanis in Georgia is estimated at 280,000 - 360,000.[11] They are the second-largest ethnic group after the titular nation in Georgia. Azerbaijanis are distributed across the entire country, but make up the majority in 3 districts - Marneuli (83%), Dmanisi (67%) and Bolnisi (66%), and a notable portion of Gardabani (44%) and Sagarejo (36%).
Unlike other ethnic minorities in Georgia, the Azerbaijanis have never sought to divide Georgia by demanding autonomy or independence and being more loyal to the territorial integrity of Georgia, even during the hardest times of Georgian nationalism in late 1980s and early 1990s, when the Azerbaijanis were subject to humiliation and insult by Georgians. As a result, many Azerbaijani families fearing nationalistic policies and oppression opted to leave for Azerbaijan and Russia. According to some estimations, of a population of 702,200 Azerbaijanis, more than half had left Georgia, leaving only some 248,000.[12]
After Rose Revolution, the Georgian government pursued a policy of integrating the country's minorities. The Azerbaijanis also become more organized by establishing societies obtained representation in various levels of government, including parliament.
In spite of the support of Azerbaijan and Azerbaijanis to Georgia`s territorial integrity over the past years, the Tbilisi football incident raised tensions and produced a reply in a similar manner: during the second match at Gabala domestic fans raised posters such as "Sarvan. No Marneuli", "Başkeçid. No Dmanisi". "Choruk Gemerli! No Bolnisi!" reminding Azerbaijani toponyms for several districts in present-day Georgia. The stadium crowd also saw a map that included Azerbaijani-populated provinces of Georgia and a "Borchali[13] is an ancient Azerbaijani land" banner. The local police removed the posters.[14] [15]
As a neighboring country, Georgia has also been benefitting not only from Azerbaijan`s friendly relations and warm attitude but also from Azerbaijan`s investments and the Westward export of energy resources. The oil and gas boom that started in Azerbaijan in the turn of the millennium paved way for regional projects that included Georgia. Baku-Tbilisi-Ceyhan oil pipeline, Baku-Tbilisi-Erzurum gas line and Baku-Tbilisi-Kars railway (the construction still underway) connect Azerbaijan, Georgia and Turkey, deliver Azerbaijan`s energy resources and create a bridge between East and West. Another pipeline route between Baku and Supsa terminal (Georgia) is also used for transporting Caspian oil.
These projects that laid down new routes from the Caspian to European markets, bypassing Russia not only mean a lot for Europe, but also play an important role in Georgia`s energy security with sustainable supply of fuel, gas and electricity. Former Georgian President Eduard Shevardnadze, one of the architects and initiators of the Baku-Tbilisi-Ceyhan project, saw construction through Georgia as a guarantee for the country's future economic and political security and stability. Other ex-President Mikheil Saakashvili told reporters in 2003 that "All strategic contracts in Georgia, especially the contract for the Caspian pipeline are a matter of survival for the Georgian state." [16]
The construction of the Tbilisi-Erzurum gas line (also known as the South Caucasus Pipeline) also serves to the energy security of Georgia, which, as a transit country, has the right to take 5% of the annual gas flow through the pipeline in lieu of a tariff and can purchase a further 0.5 billion cubic meters of gas a year at a discounted price. A stable supply of energy is important for Georgia: many people in Georgia can remember Azerbaijan`s first aid with 10 million cubic meters of gas in the cold winter of 2006. After the two explosions in the Mozdok-Tbilisi pipeline (which Georgians considered Russia`s blackmail) suspended the supply of gas to Georgia, Azerbaijan provided Georgia with millions of cubic meters of gas from its own reserves in a bid to keep the heat on and power stations operational. Though Azerbaijan itself was experiencing its own energy crunch amidst record low temperatures, the Azerbaijani government decided to deliver gas and electricity to "a friendly neighbor".[17]
Over 300 Azerbaijani companies have been quite active in Georgia by pumping investments in the neighboring nation and engaged in various spheres, especially energy, construction, food industry. In just five years -- from 2008 through 2012 -- the amount of Azerbaijan's direct investments in Georgia amounted to $308.7 million. The largest volume of investments was reported in 2011, when the figure reached $138 million.[18] In 2014, Azerbaijan was the second-largest investor in Georgia - $ 302 million or 24% of total foreign direct investment.[19]
Azerbaijan's investments in Georgia's economy totaled $59 million in the first quarter of 2015, which is 25.5% more than in the same period of 2014. As of the reporting period, Azerbaijan with a special weight of 33.7% was the biggest foreign direct investment in Georgia.[20]
SOCAR Energy Georgia, which is a subsidiary of SOCAR (State Oil Company of Azerbaijan Republic) has invested in Georgia`s economy over 700 million USD so far. Ranked among the largest investors in Georgia, it was also named the biggest taxpayer in Georgia several times. [21] [22] Most recently SOCAR Energy Georgia took an active part in the measures taken for elimination of results of Tbilisi flood that occurred on June 13-14, 2015 and allocated financial assistance to the capital residents who suffered from the flood.[23]
The scandal would likely not have an effect on big projects between the governments but may create distrust between the people and affect Georgia`s tourism industry. In the past few years, Georgia has been the number one destination for Azerbaijani tourists due to its proximity and low costs. According to the Georgian National Tourism Administration, the number of arrivals in Georgia from Azerbaijan rose from 153,467 in 2005 to 1,283,214 in 2014. This figure was equal to 580,878 in the first 6 months of 2015. Azerbaijan was ranked 3rd for international arrivals in Georgia in 2013 and 2014, 2nd in the first half of 2015.[24] The flag incident urged some calls on Azerbaijanis to refrain from visiting Georgia – such discussions are held on social networks and gain supporters.
As noted, the both countries already fell victims of separatism and have been suffering from territorial problems (Abkhazia and South Ossetia in Georgia, Nagorno-Karabakh in Azerbaijan). The major line of Azerbaijan-Georgia relations since the first days has been mutual support to maintain national independence and territorial integrity. Such ties are extremely important in the face of natural threat from north. The present high relations between Azerbaijan and Georgia have already been referred to as an example to achieve friendly ties and fruitful partnership in the uneasy Caucasus, which is in need of long-awaited peace and stability. Therefore, where the emergence of such territorial claims and new ethnic controversies can lead to should be seriously thought of and avoided in both countries.
---

---