POLITICON.COM
Interview with Roza Otunbayeva (Part One): from the USSR to Kyrgyzstan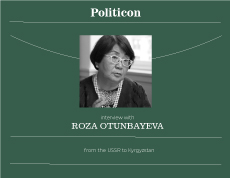 A prominent stateswoman and diplomat, Roza Otunbayeva has had huge impact on the modern history of Kyrgyzstan and even served as President from 2010 to 2011. In this exclusive interview with Christian Eccher that took place in Bishkek in November 2017, she tells about her intense political life and the challenges her country might face in the near future.
The first part of the interview covers the birth of Kyrgyzstan after the dissolution of the USSR and the first difficult steps taken by the Central Asian republic towards democracy.
Eccher: When did you feel the need to deal with politics? It is quite interesting, because when you entered politics there were not so many women in the political life of the Soviet Union.
Otunbayeva: We still live in a sort of contemporary Soviet Union. At the time, when Kyrgyzstan was part of the USSR, everyone was involved in politics.
I graduated from the Moscow State University and taught philosophy at the Kyrgyz State University. In 1979, I was recruited for the party work. I started working in Bishkek`s Lenin rayon.
In 1986, I was transferred from the party committee to the government of Kyrgyzstan SSR, in which I served as Vice Prime Minister and Minister of Foreign Affairs for three years. Although the Soviet republics had their own foreign ministries, they functioned formally, as everything was naturally decided in Moscow.
In 1989, Eduard Shevardnadze invited me to Moscow, to the Ministry of Foreign Affairs of the Soviet Union. I served for three years as the representative of the Soviet Union at UNESCO and the chairman of a UNESCO Commission.
That was a period of Perestroika even in the Soviet Union`s foreign policy. Germany was reunifying, the USSR withdrawing from Afghanistan, the entire Central and Eastern Europe slipping out of the Soviet sphere of influence.
Gorbachev intended to dispatch me as ambassador to Malaysia. He signed the decree in October 1991, but the Soviet Union collapsed in December. For some time, I remained in limbo. Soon I received an invitation from Bishkek to return to Kyrgyzstan and to take over the Ministry of Foreign Affairs. I came back in February 1992. We had to create the ministry from the scratch with all staff almost being very young and inexperienced, to establish relations with all countries. In other words, we were putting our country on the world map. It was a very responsible time and there was a great shortage of capable diplomats.
The economy was too weak: since all the ties with Russia became broken, we now had to survive somehow ourselves. We needed the World Bank and International Monetary Fund to received credits and financial resources. President Askar Akayev sent me to the United States, where I served as Kyrgyz ambassador in 1992-1994. Washington was the key because we could get what we needed from there. We joined the World Bank, the International Monetary Fund. The United States allocated a big humanitarian aid to Kyrgyzstan.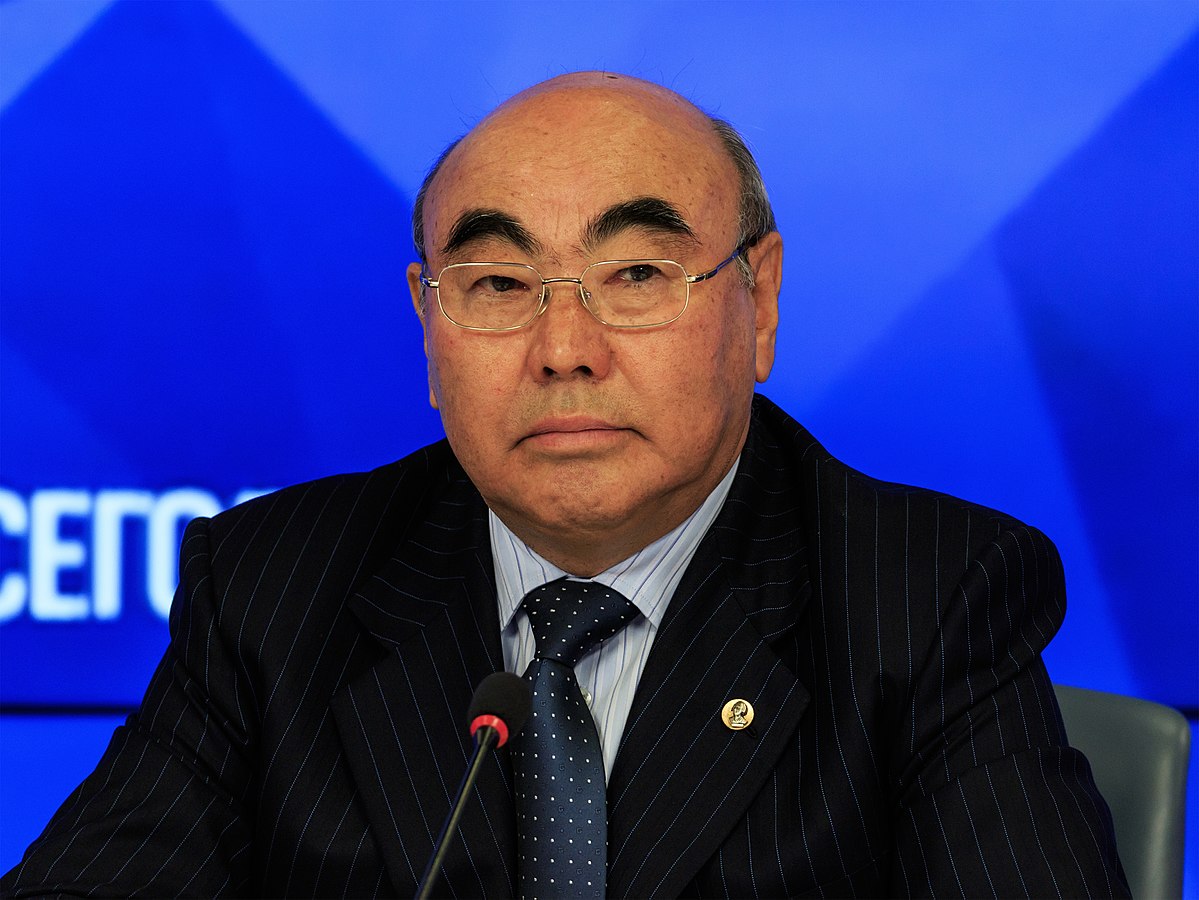 First Kyrgyz president Askar Akayev
I could have worked there longer, but the Kyrgyz government failed to appoint a new foreign minister during my absence. So I returned to Bishkek in 1994 and worked as minister until l997. But that was an intense period for a newborn state. It was vital to establish the basic things, state apparatus, international relations. And we were facing too many problems, both domestic and external. We did not have any natural resources so we had to work harder, figure out our own path of development.
What Akayev was doing was not acceptable for me. I did my best to have Kyrgyzstan designated as a democratic country in the west and in America. In fact, Akayev was also committed to democracy in his early presidency. We did everything possible and impossible to be admitted as a democratic country. Now assessing Akayev retrospectively, I can claim that he failed the test of power. Material assets overcame him. He was merely a scientist, who became first a member, then President of the Academy of Sciences. Soon he found himself in the party and Gorbachev`s parliament, and finally in the presidency. Perhaps he was unprepared for power.
The people believed in him, in his reforms, thinking he started reforms and he would complete them. We were building market economy, democracy, freedom of speech. But in 1997 we did not yet have a real opposition to protest him. At one point, I realized that I could no longer work with him. At my request, I was sent as ambassador to our mission in London, although Akayev did not want to let go of me. When he got re-elected in 2000, I understood that there was no point for me to return to him. In 2002-2004, I worked as part of the UN peacekeeping mission for Georgia-Abkhazia conflict.
In 2004, I decided to return home. I was being called to take part in the upcoming parliamentary elections. In late 2004, we founded Ata-Zhurt movement, of which I was a co-chair. We prepared well for the elections, but my mandate was taken from me. While Akayev`s daughter received a seat in the parliament. She had never worked a day in Kyrgyzstan, unlike me – I had worked at university, party and government throughout my career. That move displayed that power had become a purely family affair. But we, as opposition, fought back and ended up with the 2005 revolution.
We put all our efforts to have Akayev step down. But then came Kurmanbek Bakiyev, who was the plan of another opposition group. Bakiyev had initially led a different movement, but it later merged with ours.
As you probably know, Bakiyev was from the south. After 14 years of Akayev`s rule, the southerners were very encouraged by the fact that Akayev (a northerner) should be removed and another man must come. Although we all were very active in the opposition movement, Bakiyev and his supporters possessed more funding. They worked with the masses so that the latter supported them and lifted Bakiyev to the top.
When he was elected President, we all came to power anyway. For instance, I became Foreign Minister. It was March of 2005. In September, I had my mandate revoked: I bothered them and I had prevented them from doing whatever they wanted. Some of them had already started engaging in corruption.
And when the Andijan event happened, we had a whole plane full of Andijan refugees. There were hot debates among us what to with them. Bakyev did not really care about the incident and went to Issyk-Kul. I insisted in our Security Council to find a solution and managed to send those refugees to Romania; we saved them from cruelties.
Since there were continuous violations of the Constitution, I moved to the opposition, the Social-Democratic Party of Kyrgyzstan, to fight the regime. We were 11 against 89 from Bakiyev`s party. Gradually I became the leader of the faction and regularly spoke up against Bakiyev and his regime.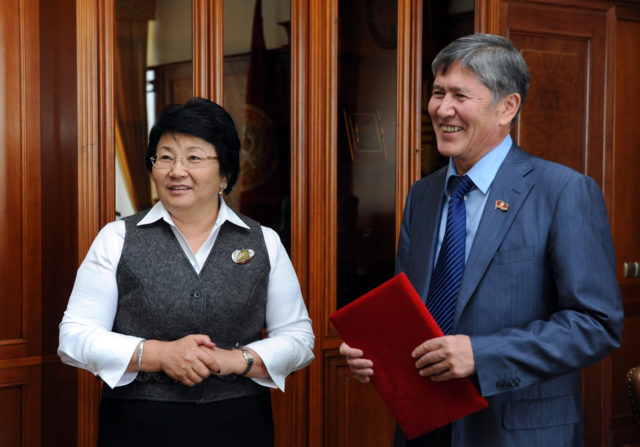 Otunbayeva and Atambayev
In 2009, we nominated Almazbek Atambayev for the presidential elections, which he lost. Indeed, it was an unsuccessful attempt for him. Later, in April 2010, a second revolution broke out in Kyrgyzstan. We had thought that it would take us long to fight Bakiyev as his regime was quite tough and very much strengthened. We had not even believed that everything would fall so suddenly. But the regime made a bloodbath in the square by killing many people. Thus, we had no option but to take the power, which we did on the night from April 7 to April 8.
The authorities used fire against the protesters. It was a bloodbath, a tragic event. Twice I went to the Government House to meet Prime Minister Daniar Usenov. When I demanded the resignation of the government, he and other ministers asked some time for consultation. Having returned half an hour later, they submitted their resignation. And Bakiyev flew out of the country. That night we decided to take responsibility and formed a provisional government. We assumed the task to establish order within the country. We promised to produce a new constitution in three months, to shift to the parliamentary form of government, restrain presidential power to one 6-year term.
Six months later we held parliamentary elections in October. Step-by-step, we reconstructed the three branches of power. At first - the constitution, then referendum and parliamentary elections. A year later we organized the presidential elections after which I passed the post to my successor.

The original was published here.

---