POLITICON.COM
Russia-Ukraine crisis: Can Turkey be a diplomatic breakthrough?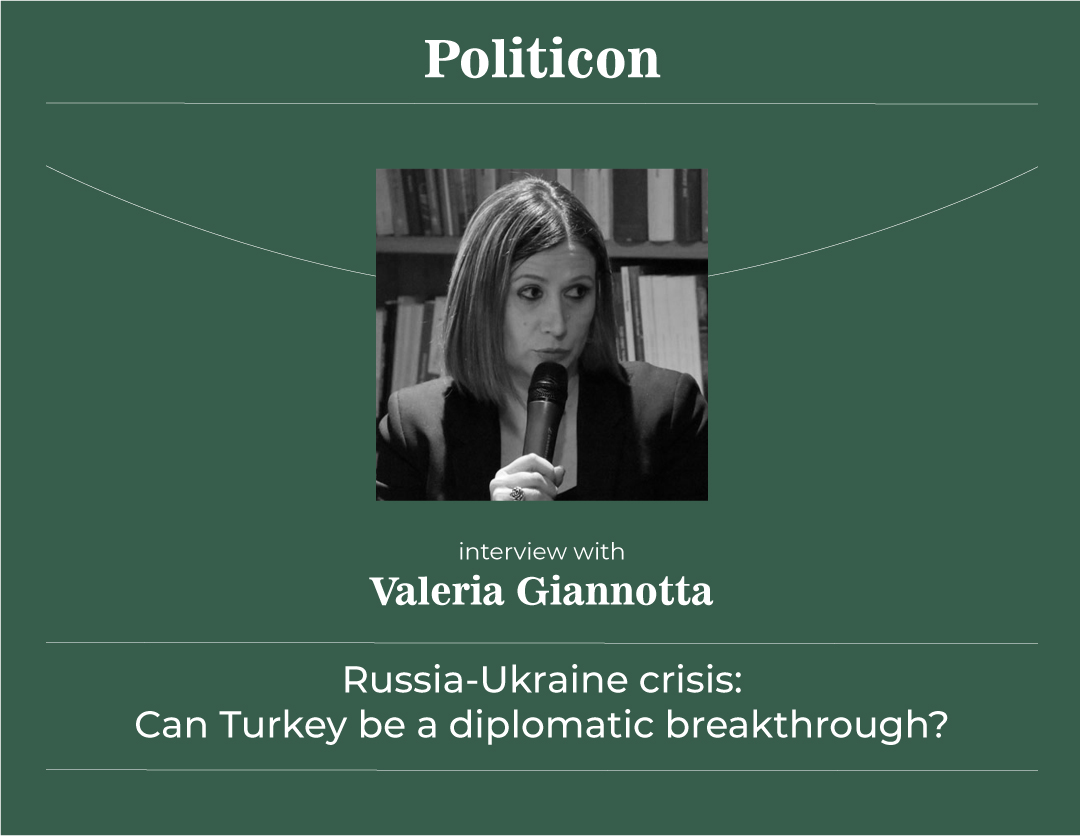 In the framework of the tensions between Russia and Ukraine, Turkey has been closely following the developments and is in close contact with both Kyiv and Moscow. As a NATO member that shares the Black Sea with Ukraine, Turkey has high stakes in the outcome of the crisis and has been backing Kyiv in significant ways. Yet, considering efforts by President Erdoğan to continue cooperating with Moscow in numerous areas, Ankara is particularly determined to avoid sliding into a conflict with Russia, and its support for Ukraine logically comes with limits.
Simona Scotti, a research fellow at Topchubashov Center, has interviewed Valeria Giannotta, an academic expert on Turkey and Scientific Director of CeSPI Observatory on Turkey, who provided us with her evaluations on the possible role that Turkey can play against the backdrop of the ongoing crisis.

How would the crisis between Russia and Ukraine affect Turkey? What interests are at stake?
If the crisis between Russia and Ukraine erupts in an open conflict, it would certainly have consequences for Turkey, rather directly or indirectly depending on Ankara's involvement. Actually, there are several interests. First, out of the casus belli, both for Moscow and Kyiv the stake is the access to the sea, a basin where Ankara has several interests and incomes. We should not neglect, indeed, that Turkey has full control over the straits, namely Bosphorus and Dardanelles. Hence, an open conflict would pose some stability risks to a country which has just celebrated its 70th anniversary as a NATO member. It comes that Turkey aims at avoiding any shift in the international balance by aiming at power containment in the region. This is valid overall regarding Russia, which had already proved expansionism skills by putting its flag over a naval base in Syria, a move useful to access the Mediterranean. Moreover, containing Russia means preserving the territorial integrity of Crimea and of Tatar minority. The legacy of the Crimean War and the strong link with the Crimean Tatar community plays a discriminating role in Ankara's support to Ukraine to the extent that Turkey has been warming the Ukrainian membership in NATO. On the other hand, Ankara cannot afford to openly challenge Russia. In Turkish psychology the memory of the jet accident that occurred in 2015 and of the airstrike in the Syrian canton of Idlib killing around 35 Turkish soldiers is still vivid. In other words, Ankara cannot afford to get involved in a crisis like the past ones as it does not have the capability to modify the factors already in the ground. Moreover, with both Moscow and Ukraine, Ankara shares important trade relations. Towards Kiev significant are the agreements inked in defense sectors and the recent creation of a free trade zone, while energy issues bind the relations with Moscow. In a time of economic crisis in Turkey, this means a lot.
The solidity of Turkish-Ukrainian relations is well known. At the same time, Ankara has close ties with Moscow, even though they are certainly not friends nor allies. Is Turkey likely to side in case of an armed confrontation?
As mentioned before, Ankara would do anything to mediate between the parties and in case of open confrontation would try to keep the balance by protecting its own interests.
Already in December, Ankara positioned itself as a possible mediator between Moscow and Kyiv, and on February 3 Turkey's President Recep Tayyip Erdoğan visited Ukraine in an effort to carve out a comfortable position between Ukraine and Russia. Are there any chances that Turkey will be successful in this role? And should these mediation attempts be considered as a way for Turkey to explore new options for increasing its regional political presence?
Ankara has proved several times its pragmatism as it happened before in Syria, Libya and Nagorno Karabakh. A mediator role would help Turkey to gain credibility in the eyes of Western allies in a time when the relations have been affected by mutual frustration. However, in all of this, we should consider the 'Biden factor': so far the US President did not show any warm sign towards Turkey.
Since 2021, Ukraine and Turkey have established a solid link in industrial collaboration in the field of defense, especially linked to the sale and production of Turkish-made drones - the Bayraktar TB2 and Tai Anka. At the beginning of February, Turkey agreed to expand supplies of armed drones to the Ukrainian army. What are the possible effects of this axis in the defense industry on Turkey's relations with Moscow in the framework of the ongoing crisis?
Strategically in the Ukrainian military's conflict with separatists in Donbass, the Bayraktar TB2 drones sold to Ukraine have already made some difference. Moreover, some other cooperation has been developed also for the benefit of the Ukraine navy. Beside, many trade agreements were signed and more recently a free trade zone has been established. Thus, Ankara would continue selling arms to Kiev and would not disrupt the business. With Moscow Ankara had already experienced a 'compartmentalized alliance' in different scenarios, as I mentioned before. This time the main priority would be avoiding as well the imposition of heavy sanctions on Russia by the US and the West, that would have snowball effects on the current economic fragility of Turkey.
Despite being a member of NATO, Turkey tries to position itself as a separate center of political power poised between West and East. Could the ongoing conflict give Turkey an opportunity to realign its influence at the regional level?
For its position and due to its interests it seems that the Turkeys' natural trend is to oscillate between East and West. It was very clear in Syria, where Ankara was fighting the YPG while West allies were arming it and over the recent crisis with the U.S. over Russia S-400 defense system, after the US refusal of selling patriots to Ankara. The driving factor in Turkey's regional stance is overall the protection of its national interests by aiming at playing a leadership role in the region.

---