POLITICON.COM
Moldovan Parliamanetary Election: New Competition Area Between Russia and the EU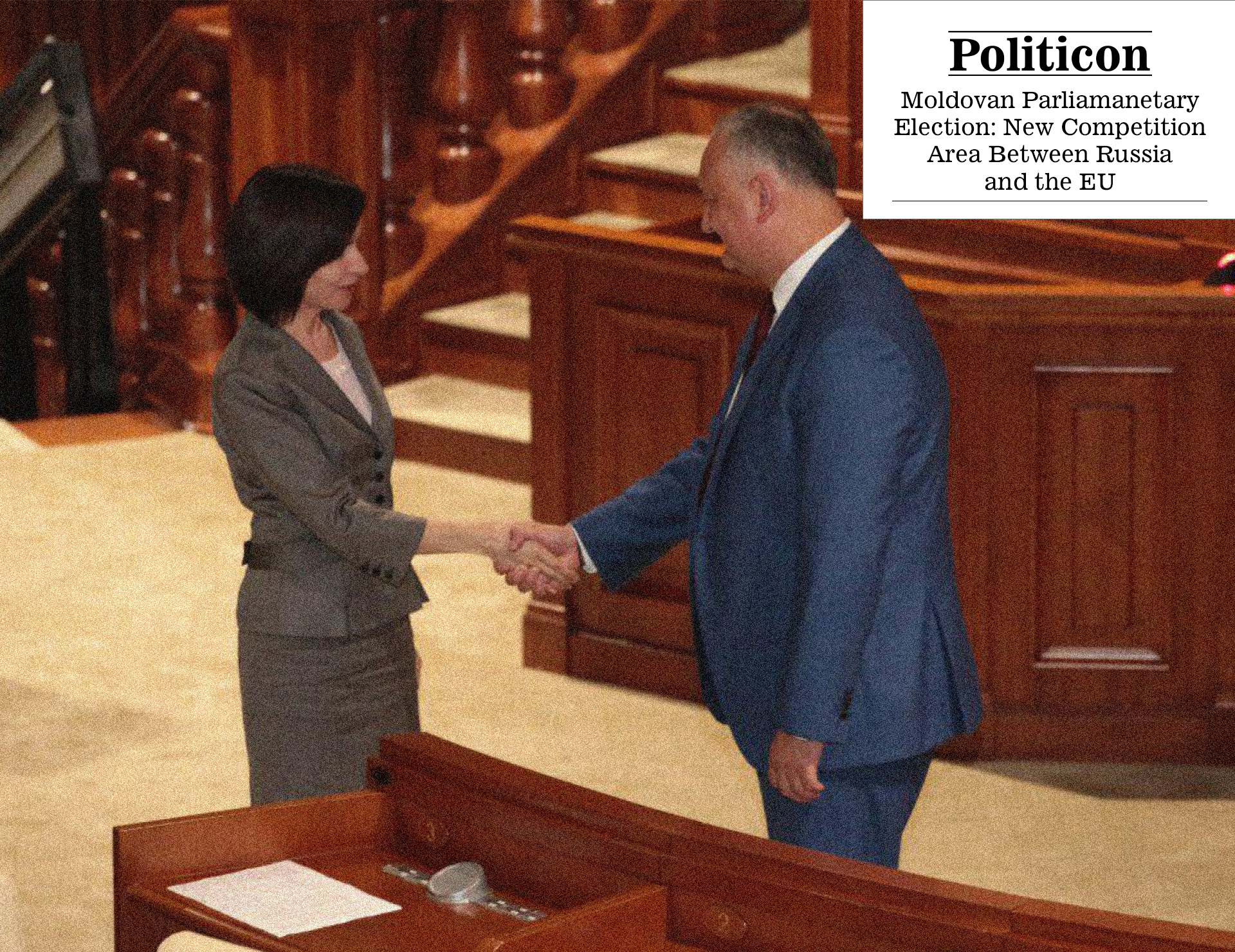 As the parliamentary election approaches in Moldova, political rivalry between pro-Russian and pro-European parties enters a more complicated phase. Each side tries to convince Moldovan people to follow its arguments in the developing country's political and economic fulcrum and blames the opposite side to be a puppet of Europe or Russia. After 2020 Harvard-educated technocrat Maia Sandu's triumph in the presidential election pro-European forces took control and strengthened their position both in the Moldovan community and administration. She gained the upper hand over Russia-oriented President Igor Dodon, with her core electorate of rural voters with educated urban voters, the young and the Moldovan diaspora in Europe. Sandu prevailed over Dodon in all of the central districts in the countryside by large margins. She even received a substantial share of the "Russian-speaking" vote in Chisinau. Regardless of the growing popularity of European ideas among people, the key governmental institution was/is under control of the pro-socialist Party of Socialists of the Republic of Moldova (PSRM) led by Dodon with 37 of 101 seats.
Moldova witnessed major changes after a pro-European candidate was elected as the president of the country. In the 2016 presidential election runoff, Sandu lost 48 percent to Dodon's 52 percent. Sandu's focal opponent was oligarch Plahotniuc, who controlled Dodon at that time. Plahotniuc's support for Dodon made him president, but the same person downed Dodon's reputation as fraud allegations were revealed. In 2020, Moldova's Prosecutor General said that one of the country's richest people, Vladimir Plahotniuc, had been charged with involvement in the theft of $1 billion from Moldovan banks in 2014-2015. Plahotniuc left Moldova for the United States last year after his Democratic Party lost power in an election. After this scandal support from Moldovan people to Dodon fell immediately, since Plahotniuc was a primary defender of Dodon's campaign. Albeit it sparked resentment against pro-Russian ideas, as the Kremlin was a paramount foreign partner and bulwark of the Socialist Party.
The pre-election war between Sandu and Dodon
As Sandu controls the presidential wing of government, meanwhile key structure parliament is under Dodon's control, this bilateral situation between governmental institutions created obstacles to the PAS Party, led by Sandu to adopt essential resolutions and take reformist actions to recover the ruined economy of the country. Taking into account the decreasing popularity of the pro-socialist environment among Moldovan people, Dodon made several attempts to cancel or at least postpone early elections. Firstly, in April 2021, Dodon, flagged that the Socialist majority in parliament will block the allocation of state budget money to stage early parliamentary elections until the COVID pandemic is over. According to the Moldovan constitution, the budget for organizing early elections can be adopted with the vote of the majority in parliament whose majority is led by Dodon's PSRM. However, the Constitutional Court ruled that all the legal steps and requirements had been met, and President Sandu was entitled to start procedures for dissolving parliament. Polls show the Socialists would fare badly in early elections, which explains their reluctance to face the voters right now.
The second attempt of Dodon was to create a new bloc, Electoral Bloc of Communists and Socialists (BECS) to refrain from defeat in parliament elections and gather a communist-socialist political circle to overwhelm pro-European parties. In May 2021, the Party of Communists of the Republic of Moldova (PCRM) and Party of Socialists of the Republic of Moldova (PSRM) announced a newly-formed coalition. BECS, like its member parties, has espoused syncretic political positions, combining left-wing policies on fiscal issues and right-wing policies on social issues. Both parties are democratic-socialist and agrarianist in practice, and they are traditionalist on social issues, including the support for the Moldovan identity. On foreign issues, they are eurosceptic and anti-NATO and support closer ties with Russia, and they oppose the unification of Moldova and Romania and immigration. Even this initiative does not seem to save the pro-socialist majority in parliament. According to the latest (21 Jun–2 Jul 2021) poll conducted by ASDM, Bloc of Communists and Socialists collects 37.1% vote out of 100, meanwhile, PAS Party takes 37.4% of votes alone.
After attacks from the opposition side to damage pro-European ideas in Moldova and take control of the community Andrei Nastasche, leader of the European Platform for Dignity and Truth (DA), called on the OSCE to intervene in the preparations for the early parliamentary elections on July 11 and for the Moldovan government formed by the Socialist Party to increase the number of polling stations abroad. Nastache notes that members of the Central Election Commission, nominated by the Socialists, want to stop opening additional polling stations in Europe with provocative steps to prevent the Moldovan diaspora from voting in polling stations. The third step taken by BECS to defy the pro-European bloc was to be on the opposite side over the above-mentioned issue. This initiative by the DA must be taken seriously, since, in the 2020 presidential elections, Sandu garnered 244,000 votes in the diaspora, which lifted her far above the incumbent. The diaspora's total vote went 93 percent for Sandu and only 7 percent for Dodon. We can assume that Dodon's 7 percent share came mostly from Moldovans in Russia and these groups had favored another Russocentric candidate, Renato Usatii, in the first round. Notwithstanding resistance by BECS and the Central Election Commission which is formed by Dodon's team pro-socialist group failed to penetrate its vision about this issue. The Central Electoral Commission has been forced to accept the Foreign Ministry's recommendation to open a larger number of polling stations for diaspora voters – whose votes could be decisive in the July elections. It was a defeat for Bloc of Communists and Socialists, but another victory for Sandu's team as about a million Moldovans live and work abroad, split between Europe and North America and Russia, out of total 2.7 million population – and their results could tip the balance in favor of pro-EU forces seeking a majority in parliament.
Possible scenarios after parliament election
By putting in a row all election wars between Sandu and Dodon one can observe that the former prevailed over the pro-socialist stance and gained more attention and support from the Moldovan people. Although obvious superiority is in the hands of the pro-EU group, there will be another challenge for Sandu's team if they win parliamentary elections. Even if pro-European President Sandu's PAS party wins a majority, there will be big questions about its ability to form an effective and professional government. Only cooperation with other parliamentary factions will help solve this problem. PAS has not yet indicated that it wants to contact them. The fact that the PAS may be the only pro-European party in the new parliament and its refusal to negotiate with the pro-Russian camp could lead to another early election that will deepen the political crisis.
After the parliamentary election, two scenarios can be on the table: PAS will dominate and gather at least 51% of votes that means it allows the party to form government independently or PAS will have to cooperate with another party in the parliament.
PAS may form a "hybrid coalition" with the populist Usatii Bloc. This can only happen if the pro-European President Sandu alone does not get enough votes to form a majority and a government. In such a "hybrid" coalition, it will be difficult to expect that the parties will be suspicious of each other and always come to an agreement. Such an alliance seems a bit strange, but so far there is no other choice. Opinions differ on whether the Renato Usatii block will cross the 7% threshold.
The July 11 parliamentary elections will also be a referendum on how close Moldova's relations with Russia are. Another absorbing manner is how many people will vote for the Moldovan Patriotic Party. It will show how many people want to unite with Russia. The party claims that even Voronin and Dodon (BECS bloc leaders) did not dare to say: Moldova is becoming part of Russia.
It will be especially interesting to see how Moldovan migrants in Russia and pro-Russian Moldovans living in the rebel-held Transnistrian region and Gagauzia will vote. It seems that they will support the "Patriots'' of Moldova as a party in favor of unification with Russia. The election results of the Moldovan Patriotic Party will show how important Russia is for Moldova. Sergei Persiun, a spokesman for the Moldovan Patriotic Party, highlights Russia's military presence in Moldova's separatist Transnistria region. According to Persia, Russia provides material support to the Transnistrian army and must continue to do so, while Russian military contingents must remain in the region to "ensure Moldova's security" and "protect us from the colonizing West."
BECS's tools against pro-EU stance
The Transnistrian conflict and energy cooperation with Russia is another toll for BECS to use against pro-EU parties. Dodon highlights that the West is trying to create an "anti-Russian parliamentary majority" in Moldova and pro-European parties have been instructed to form a parliamentary majority that will strictly follow Western instructions in its geopolitical struggle against Russia. Dodon added that the West would do everything in its power to drag Russia into a new regional conflict by preparing acts of sabotage in the Transnistrian region.
The pro-Russian side also accuses Romania and the EU of planning to sell Russian natural gas to Moldova at "inflated prices." Ion Sterian, CEO of Romanian Transgaz, said in the coming days that "the Ungheni-Chișinau gas pipeline could start operating at full capacity on October 1" and that Turkish gas supplied to Romania via Moldova would be delivered to Moldova. According to the Socialist bloc, Europe wants to squeeze Russian Gazprom out of the Moldovan market to become a new monopolist and make a big profit by selling gas at a higher "European price." The leader of the ruling pro-Russian Socialist Party speculates that if pro-European parties come to power, the price of natural gas imported from Moldova's main gas supplier, Russia, will increase by 50-60%. Last year, the Dodon government agreed with Russia on a price of $120-140 per 1,000 cubic meters. Dodon notes that if pro-European parties come to power, the price will be $250-300. It is the main question of how Sandu will react if she wins the parliamentary majority.
Obviously, she will not take a strong stance over the Transnistrian issue because she failed when did it after taking the presidential office and faced serious challenges from the Russian side. However, boosting cooperation with the EU can aggravate Russia again and it can pave the way to a new crisis in the country. Sandu has to find new energy partners and reduce the country's independence on Russian gas if she wants to wave more independent policy and take its stance with the EU over all aspects of relations manifestly.
Keeping in mind strict competition between rival sides, this parliamentary election will have different aspects from previous ones. Currently, the struggle of pro-European and pro-Russian ideas in the country is at its peak. The results of the parliamentary elections will determine not only the domestic situation but also Moldova's relations with foreign countries. Even if pro-European forces control all branches of government, given energy cooperation and the fact that a significant portion of Moldova's population is pro-Russian, it is unlikely that the country will break away from Russia's immediate circle soon. But, of course, in this case, new steps will be taken for closer cooperation between Europe and the region, especially the Black Sea countries. An example of this is the recently established "Association Trio" initiative. There may also be energy problems between Russia and Moldova, so the country will have to look for new energy alternatives.

---